Well, the BLOSCARS are over (and so are the OSCARS) so it is time for the winners to bask in all their glory while secretly worrying about everyone they forgot in their "Thank you" speech. Oh, no! But the Academy cut me off! The music started playing and people were screaming for me to get off the stage! I know they told me I would only have 30 seconds to deliver my speech, but I am "Blah-blah" and I thought they would give me more time. I was nervous! That's why I forgot all about you!
Ahem!
Anyway, and the winners are...
For MOST HELPFUL BLOG goes to....
For MOST THOUGHT PROVOKING blog
the BLOSCAR goes to...
For the MOST SUPPORTIVE BLOG the
BLOSCAR goes to...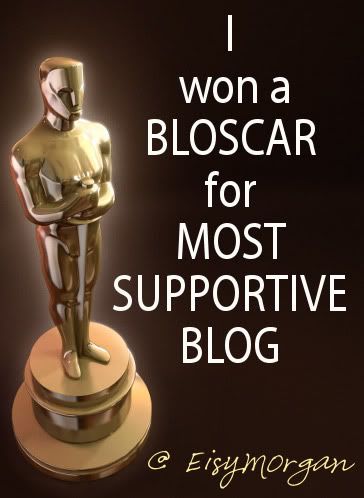 for the MOST CREATIVE BLOG
the BLOSCAR goes to
Congrats to all the winners and a very special thank you to EisyMorgan for hosting this event! I am absolutely beyond thrilled to have been a part of it all!